Young Israel of Great Neck
Shabbos Project
The Young Israel of Great Neck is proud to announce its participation in the community-wide Shabbos Project, October 24th and 25th.
Beginning last year in South Africa and now with over 212 cities and 33 countries participating, the Shabbos Project is an effort to have every Jewish person in the world—secular, Reform, Conservative, Orthodox and unaffiliated—join in the observance of one Shabbos together this coming October 24th and 25th (Parshat Noach). In Great Neck at least 22 synagogues from every denomination are "keeping it together."
See the flyer below for information about the Thursday night challah baking, Friday night communal dinner and oneg, Shabbos morning explanatory service, Saturday night concert and other activities. Check the website, www.greatneckshabbatproject.com , for other participating synagogues and periodic updates on activities around town. To see how powerful this initiative can be, be sure to watch this incredible video about the beginning of the Shabbos Project in South Africa: https://www.youtube.com/watch?v=xhfe-MZcCjE. The Jews of South Africa transformed an entire community. We can do the same right here in Great Neck!
TV Game Show Night - Saturday November 1
Save the date for the Young Israel of Great Neck's first TV Game Show Night motzai shabbos November 1 at 8:30 PM at YIGN.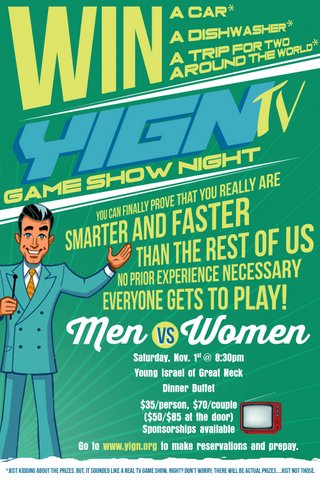 Current Announcements
CONDOLENCES
Condolences to Carole Lerman Libby on the loss of her father, Dr. Philip Lerman.
Condolences to Harriet Schimel on the loss of her mother, Frances Sherman.
SHUL
SAVE THE DATE
November 1 (Saturday, 8:30PM) for YIGN'S TV GAME SHOW night. It's Name That Tune, Beat the Clock, Jeopardy, Let's Make A Deal and more - all rolled into 2 hours of fun. Finally, you can prove that you really are smarter and faster than everyone else! Details to follow.
SAVE THE DATE
Shabbat November 15 for the Young Israel of Great Neck's fourth Bridge the Gap luncheon. It's a great opportunity to meet new members or other community members that you may not have previously gotten to know. Meals will be hosted in members' own homes. Please RSVP at YIGNBTG@gmail.com.
SUCCOT MEALS
If there is anyone who does not have a succah who would appreciate being hosted at other members' homes during the holiday, please let Shoshana know. Also, feel free to let Shoshana know if you are available and would be interested in hosting these families at some point during the chag.
COMMUNITY
CHEVRA KADISHA OF GREAT NECK SHOMRIM NEEDED
The CHEVRA KADISH of GREAT NECK is looking for additional shomrim. This chesed shel emet involves reciting tehillim for a period of 2 hours at a funeral home generally in Great Neck or Queens. If you are interested in joining our group of dedicated volunteers or for additional information, please email Brenda Parver at bparver@gmail.com, or Rona Jutkowitz at ronajut@gmail.com. If you would like to be added to our list, please include your home, work and cell phone numbers.
COMMUNITY SIMCHAT TORAH GATHERING
A SPECTACULAR CELEBRATION - Bring your children and your dancing shoes - October 16th on Picadilly Road by Middle Neck Road STARTING at 8:45PM.
ANNUAL CLOTHING SALE
Ann Greenfield is once again eagerly ready to pick up your very good clothing, the proceeds to benefit needy communities in Israel. This sale, known for its quality clothing, is collecting donations of men's, women's and children's clothing in fine condition: suits, dresses, coats, slacks, separates, hats, shoes and handbags. Try to put clothes on hangers. Also gift items in original packaging would be appreciated. Please call Ann at 516-487-0940 to arrange for pickup time. Ann will give you a tax receipt at time of pickup.
ONE ROOM RENTAL APARTMENT NEEDED
Outgoing, friendly young woman with special needs and staff/roommate needs an affordable one bedroom apartment (rental) in Great Neck near Middle Neck Road and walking distance to the Young Israel if possible. Please contact Brigette Fixler at bfixler@lifetech.org.
DONATIONS
The following donations have been made to the Young Israel of Great Neck:
- Laura and Errol Uhr in memory of Arthur Bruckner; In memory of Ariel Newman
- Adele and Azriel Genachowski in memory or Rebbetzin Elaine Wolf; In memory of Ariel Newman
- Evelyn and Oscar Kranz in honor of the engagement of Jack Anavian and Sarah Bloom; In honor of the engagement of Serena Schwechter and Ben Kalish; In memory of Rosalind Rubin
- Gina and Gabriel Aharonoff in honor of the engagement of Jack Anavian and Sarah Bloom; In memory of Ariel Newman
- Rabbi Meir Mitelman in honor of the marriage of Rachel Dor and Mitchell Mintz; In memory of Ariel Newman
- Zelda and Sol Berger in honor of the engagement of Jack Anavian and Sarah Bloom; In memory of Rosalind Rubin; In memory of Frances Sherman; In memory of Dr. Philip Lerman
- Sandy and Mark Gold in memory of Ariel Newman; In memory of Arthur Bruckner; In memory of Rosalind Rubin
- Ceci and Jeff Weber in memory of Ariel Newman
- Debbie and Simon Auerbacher in memory of Rosalind Rubin
- Phyllis and Arthur Kirsch in memory of Rosalind Rubin
- Elana and Ira Tepler in memory of Ariel Newman
- Shaindy and Mayer Rydzinski in memory of Dr. Philip Lerman; In memory of Frances Sherman
- Judy and Lanny Oppenheim in memory of Rosalind Rubin
- Frieda and Morris Lewinter in memory of Dr. Philip Lerman; In memory of Frances Sherman
- Paula and Mark Lev in memory of Dr. Philip Lerman
President's Message
The YIGN is a Modern Orthodox synagogue that was founded by six visionary families. They dreamed of a participatory minyan that would be welcoming to all. After multiple small temporary locations, we moved to our present, beautiful facility at 236 Middle Neck Road in Great Neck, New York. We are privileged to inhabit a newly constructed Beit Midrash and classroom building, as well as a full sized gym. Read more
Rabbi Lerner's Weekly Parsha Shiur
Mon, 20 October 2014 26 Tishrei 5775