Young Israel of Great Neck
TV Game Show Night - Saturday November 1
Save the date for the Young Israel of Great Neck's first TV Game Show Night motzai shabbos November 1 at 8:30 PM at YIGN.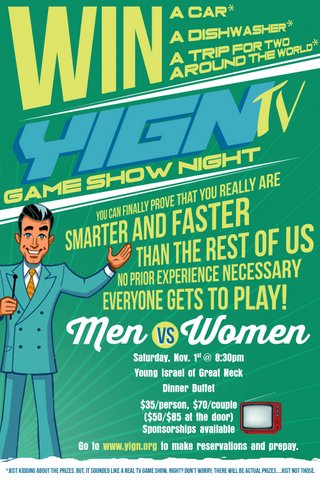 Announcements
MAZEL TOV
Mazel tov to Chaya and Marc Katzman, Estee and David Shor and Udi and Jules Winokur on the birth of their son and nephew. The Shalom Zachor for their new baby boy will, I"YH, be held at 8pm Friday at 22 Woodland Place in Saddle Rock Estates. The Katzman bris will take place, I"YH, this coming Monday immediately following 6:35am davening.

Mazel tov to Michelle and Nathan Tarnor on the birth of their daughter, Kira Zahava.

THANK YOU
Harriet Schimel and family are profoundly grateful to Rabbi Lerner, Rabbi Ismach, Jerrald Weinstein and the YIGN community for their many kindnesses and expressions of sympathy following the death of her beloved mother, Frances Sherman, z"l

WELCOME NEW MEMBERS - Jessica and Noah Steinberg

SHUL

SIMCHAT TORAH HONOREES

Mazel tov to the Simchat Torah Honorees - Main Minyan
Chattan Torah - Nessim Tammam
Chattan Breishit - Bart Sobel
Kol HaNearim - Stuart Appel
Maftir - Elliot Kalker

Mazel tov to the Hashkama Minyan Honorees:
Chattan Torah - Ira Levine
Chattan Breishit - Isaac Boyarsky
Kol HaNearim - Yosef Ghodsi
Maftir - Gil Ellenberg

MISSING FROM LIBRARY
Rabbeinu Bachya Breishit has been missing for a long time from the Bais Medrash. If you know the whereabouts of the sefer, please let us know.

YOU HAVE TGO BE IN IT -- TO WIN IT!
Register now for the YIGN TV Game Show Night. This Saturday night @8:30pm. $35/person, $70/couple (more at the door), sponsorships are available. Come take your place at the buzzer -- and, play challenges of speed, intellect and over all awesomeness. L'Bella Italian buffet will be served. (No previous experience necessary!)

SAVE THE DATE
Shabbat November 15, for the Young Israel of Great Neck's fourth Bridge the Gap luncheon. It's a great opportunity to meet new members or other community members that you may not have previously gotten to know. Meals will be hosted in members' own homes. Please RSVP at YIGNBTG@gmail.com.

YOUTH

THANK YOU to the Spirgel family for sponsoring teen Kiddush in honor of Daniel's bar mitzvah parsha.

SPECIAL LUNCHEON FOR 1ST AND 2ND GRADERS
Next Shabbos there will be a special luncheon with games, activities, learning and tons of fun for 1st and 2nd grade boys and girls after Shul. The luncheon will begin after the Kiddush on Shabbos and conclude at 2pm. Please RSVP to yignkids@gmail.comby Wednesday, November 4th. Please arrange to have your child picked up from Shul at 2pm.

MOVIE NIGHT POSTPONED
Please note that due to the activities event this Saturday night, the youth movie night is postponed. Details to follow.

COMMUNITY

CHEVRA KADISHA OF GREAT NECK SHOMRIM NEEDED
The CHEVRA KADISHA OF GREAT NECK is looking for additional shomrim. This chesed shel emet involves reciting tehillim for a period of 2 hours at a funeral home generally in Great Neck or Queens. If you are interested in joining our group of dedicated volunteers or for additional information, please email Brenda Parver at bparver@gmail.com or Rona Jutkowitz at ronajut@gmail.com. If you would like to be added to our list, please include your home, work and cell phone numbers.

LAMED VAV RESTARANT
The Lamed Vav Restaurant at 20 South Station Plaza opened up recently. The restaurant is under the Vaad Harabonim of Queens and is a meat restaurant.

NORTH SHORE HEBREW ACADEMY OPEN HOUSE
Please join us at our annual North Shore Hebrew Academy Open House, 16 Cherry Lane in Kings Point, Great Neck at 7:00pm on Wednesday, October 29th. Tour our school, meet our administration and Early Childhood teachers. For more information, please call NSHA (516) 487-8687 ext. 156.

YESHIVA HAR TORAH OPEN HOUSE
Please join us at Yeshiva Har Torah's Open House on Monday, November 10, 2014 at 7:00pm. We invite you to see what makes our school, award-winning faculty and administration so unique. For more information or to schedule a personal tour, please call us a t (718) 343-2533 or visit www.hartorah.org.

SIGN UP NOW - SHAARE ZEDEK CHILDREN'S CHAMPION GAME NIGHT:
Shaare Zedek Children's Champions Event will take place on Sat. night - November 8, 2014 @8:30PM, at 404 NYC - 10th Ave. (between 32/33rd Street). Help us dedicate 4 Infant Stations & a Nurse;s Station in the NICU at Shaare Zedek Medical Center! Enjoy a Buffet Dinner, Games, Open Bar, and a Great Night with Friends!! To Register, Sponsor and buy Raffles www.acsz.org/404 - For more info - contact Sharon Goldwyn 917 287 7334.

ANNUAL CLOTHING SALE
Ann Greenfield is once again eagerly ready to pick up your very good clothing, the proceeds to benefit needy communities in Israel. This sale, known for its quality clothing, is collecting donations of men's, women's and children's clothing in fine condition: suits, dresses, coats, slacks, separates, hats, shoes and handbags. Try to put clothes on hangers. Also gift items in original packaging would be appreciated. Please call Ann at 516-487-0940 to arrange for pickup time. Ann will give you a tax receipt at time of pickup.
DONATIONS
The following donations have been made to the Young Israel of Great Neck:
- Pearl and Carl Field in honor of Terry and Leah Rifkin
- Beverly, Frank, Mordechai, Shira Hochheimer and Family in memory of Herbert Kalter
- Penny and Jerry Koss in memory of Herbert Kalter
- Helen Adelsberg in memory of Herbert Kalter
- Shaindy and Mayer Rydzinski in memory of Herbert Kalter
- Leah and Terry Rifkin in memory of Herbert Kalter; In memory of Ariel Newman; In memory of Dr. Philip Lerman; In memory of Morton Sorkin; In memory of Rosalind Rubin
- Judy and Fred Lewis in memory of Herbert Kalter
- Esther Sloyer in memory of Herbert Kalter
- Mary and Richard Schanler in memory of Herbert Kalter
- Ceci and Jeff Weber in memory of Dr. Philip Lerman
- Zelda and Sol Berger in memory of Herbert Kalter
- Eric Senderowicz in honor of Charlie Sassoon coming to the Young Israel for shul this week
- Rabbi Henry and Rochelle Dicker in memory of Herbert Kalter
- Sonia Movsas and Family in memory of Herbert Kalter
- Sandy and Mark Gold in memory of Morton Sorkin
President's Message
The YIGN is a Modern Orthodox synagogue that was founded by six visionary families. They dreamed of a participatory minyan that would be welcoming to all. After multiple small temporary locations, we moved to our present, beautiful facility at 236 Middle Neck Road in Great Neck, New York. We are privileged to inhabit a newly constructed Beit Midrash and classroom building, as well as a full sized gym. Read more
Rabbi Lerner's Weekly Parsha Shiur
Fri, 31 October 2014 7 Cheshvan 5775