Young Israel of Great Neck
Shmini Atzeret and Simchat Torah Youth Schedule
Succot Fun at Adventureland
Sukkot and Fall Youth Programming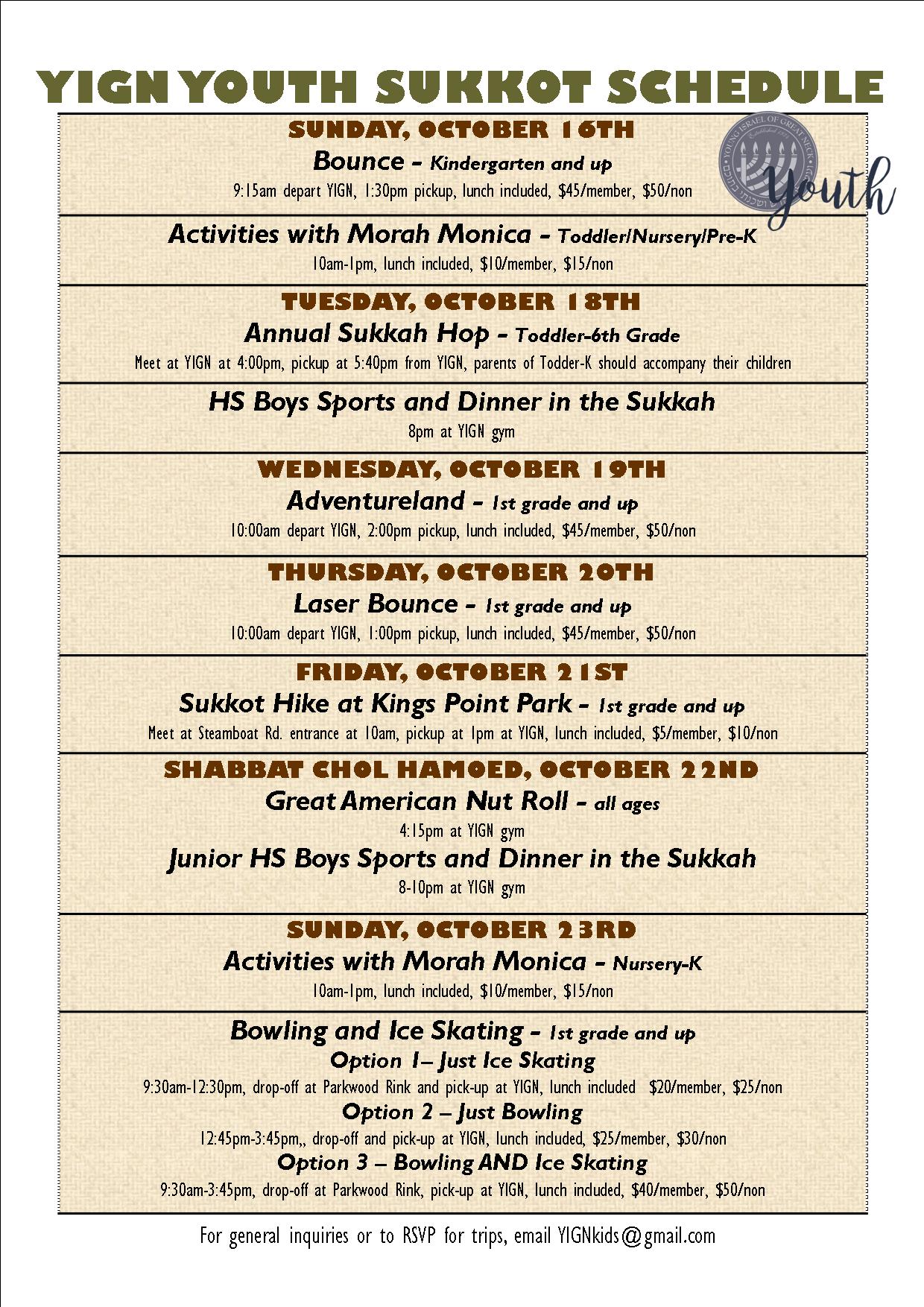 President's Message
The Young Israel of Great Neck (YIGN) was established over 40 years ago through the efforts of six visionary families. What started out as their dream has resulted, after four decades of tremendous growth, in a large, thriving, modern orthodox congregation with over 250 family members, located at 236 Middle Neck Road in Great Neck. In addition to our beautiful main sanctuary, our state-of-the-art Justin Family Center contains a large Beit Midrash, several classrooms, as well as a full-sized gymnasium. Read more
Announcements
MAZEL TOV
Mazel tov to Helene and Ted Kravitz, Fran and Dave Kalish and Ariella and Josh Kravitz on the birth of their granddaughter, grand niece and daughter, Sarah Mindel.
Mazel tov to Barbara and Efraim Weinblatt and Chani and Michael Weinblatt on the birth of their grandson and son.
SHUL
FIFTH BRIDGE THE GAP LUNCHEON
The Young Israel of Great Neck's fifth Bridge the Gap luncheon will take place Shabbat November 5th. This is a great opportunity to meet new members or other community members that you may not have previously gotten to know. Meals will be hosted in members' own homes. Please email yignbtg@gmail.com if you'd like to participate as a host or guest!
KRISTALLNACHT PROGRAM WEDNESDAY, NOVEMBER 9
We will have a program in the shul featuring Bonnie Guretwitsch - curator and archivist at the Museum of Jewish Heritage who will deliver a talk about Kristallnacht, incorporating materials gathered from our members. If all goes as planned, we will also celebrate the publication of the book Ordinary Objects/ Enduring Legacies which includes material gathered from 95 families in our community.
NOVEMBER WOMEN'S SHIUR
The November women's shiur will take place on Tuesday, Nov 15th at 8:00 PM at the home of Miriam and Gilad Ellenberg - 22 Glenwood Drive. The shiur will be given by Rebbetzin Aviva Feiner and is entitled, "The Patient Struggle to Achieving Patience."
RABBI ISMACH'S "STORY OF THE SIDDUR" CLASS ON MONDAYS AT 8:00PM
Every week, the class learns the meaning and history of an important part of our prayer book. Come and spend some time making the time we spend with our Siddur more meaningful!
SCHOLARS KOLLEL THURSDAYS AT 8:30AM WITH RABBI ISMACH
The Scholars Kollel will meet every Thursday morning in the Kufeld Social Hall at the Young Israel. Everyone is invited.
SHTENDERS
We are once again able to offer the purchase of beautiful shtenders for your siddurim and chumashim. A sample is in our showcase in the lobby near the beit midrash. If you are interested in purchasing a shtender at the cost of $100, please call the shul office.
GREAT NECK YOETZET HALACHA
In order to enhance the observance of taharat hamishpacha in our community, we are excited about welcoming Yoetzet Halacha, Lisa Septimus, as an additional resource for answering questions.
Like all Yoatzot Halacha, Lisa has been certified by a panel of Orthodox rabbis to be a resource for women with questions regarding taharat hamishpachah (an area of Jewish Law that relates to marriage, intimacy and women's health). This role was devised to assist women who are more comfortable discussing very personal issues with another woman, with the option of remaining anonymous during the call. In preparing to become Yoatzot Halacha, women devote two years (over 1000 hours) to intensive study with rabbinic authorities in taharat hamishpachah and receive training from experts in modern medicine and psychology, including gynecology, infertility, women's health, family dynamics and sexuality.
Below is Lisa's contact information, as well as for our rabbinical team, all of whom remain available to answer questions and provide guidance:
Yoetzet Halacha Lisa Septimus - 516 415 1111
Rabbi Ismach - 516 250 8202
Malka Ismach - 917 373 4883
COMMUNITY
COMMUNITY SIMCHAT TORAH GATHERING
A SPECTACULAR CELEBRATION - Bring your children and your dancing shoes - October 24th on Picadilly Road by Middle Neck Road STARTING at 8:45PM.
NORTH SHORE HEBREW ACADEMY OPEN HOUSE
We look forward to welcoming you to the North Shore Hebrew Academy Open House on Sunday, November 6th at 10:00am. Join us to learn about our Toddler-Eighth grade program and how the NSHA Modern Orthodox Yeshiva experience can transform your child and your family - We are not just a school, we are a community.
NEW for the 2017-2018 Academic year: Transportation options available for Pre-K. Supervised programming will be provided during the Open House for children ages 2+. To RSVP or for more information call Abigail Weiss at 516-487-8687 x 128 or email openhouse@nsha.org.
YESHIVA HAR TORAH OPEN HOUSE
Please join us at Yeshiva Har Torah's Open House on Monday, November 7th at 7:15PM. Experience firsthand what makes our school, award-winning faculty, parent body, and administration so unique. Nursery transportation options are available. To find out more about the admissions process, call us at (718) 343-2533 or register for the Open House at www.hartorah.org. We look forward to seeing you on November 7th!
ELDA BAS TZVI HIRSCH DISCOUNT SEFORIM GEMACH
Announcing the Zelda and Tzvi Hirsch Discount Seforim Gemach at Utopia Parkway Jewish Center! All proceeds directly support Tomchei Shabbos of Queens! Most seforim sell for $5 or less. If you have older seforim, Jewish childrens books or English language works you would like to donate, (no shaimos please), please contact Rabbi Steven Moskowitz via email at smoskowitz@saracademy.org or by cell at 516-220-7177. Tizku lemitzvot!
ANNUAL CLOTHING SALE 2016
Ann Greenfield is once again eagerly ready to pick up your very good clothing to benefit the people of Israel's neediest communities, and the YIJE shul, sponsor of events for Israel. Desired clothes are men's and women's clothing in fine condition: suits, slacks, coats, dresses, gowns, and skirts – (please put clothing on hangers if possible). Fine sweaters, hats, shoes, and handbags also are acceptable.
Please call Ann at 516-487-0940 to arrange for pickup. Ann will give you a tax receipt at the time of pickup. Thank you for caring. Final collection date is November 1st.
DONATIONS
The following donations have made to the Young Israel of Great Neck:
Nicole and Mordi Dicker in memory of Sadie Tarasuk
Evelyn and Oscar Kranz in memory of Sadie Tarasuk; In memory of David Zuckerman

Tue, 25 October 2016 23 Tishrei 5777